Introducing Blocksy, a lightweight WordPress theme built with the latest web technologies. Read this Blocksy theme review to find out if you should use it for your next WordPress website.
Blocksy theme is well-rated by users from around the globe. It is a popular choice when it comes to creating professional-looking websites. A growing number of reviewers even call it the best WordPress theme on the market!
To help you make an informed choice, this Blocksy WordPress theme review includes:
An Overview
Blocksy's Key Features
Pricing
Pros and Cons
Alternative Products
---
Blocksy theme review

Features

Ease of Use

Performance

Price

Customer Support
Summary
Blocksy theme is a first-rate choice for users who want to create business websites, online stores, and blog sites. Built with the latest web technologies, it includes user-friendly designs, professional-looking templates, a range of enhancing features, and reliable customer support. But be aware that you may have to invest in extra plugins and customization options. Get Blocksy here!
Pros
Fast loading
Customization options
Responsive design
Regular updates
Online documentation, video tutorials, and dedicated support forums
Compatibility with popular WordPress plugins
Translation-ready
Cons
The free version has limited functionality
Certain features are only available with the Blocksy Companion plugin
Customization options and features can seem complicated
Compatibility issues with certain plugins and custom codes
What is Blocksy – An Overview
Developed by Creative Themes, Blocksy is a multi-purpose WordPress theme, perfect for business websites, online stores, and blog sites.
The theme was launched with WordPress 5, which replaced the classic WordPress editor built on TinyMCE.
If you are a fan of Gutenberg, you will love Blocksy. This theme has seamless integration with the WordPress Gutenberg block editor.
Each line of Blocksy's code is thoughtfully written and open to changes. It is important to note that having "clean code" makes it easier for developers to maintain a theme. This feature can also improve the website's performance, with less risk of errors that can slow things down.
No time to read the whole article? Get Blocksy here.
Blocksy's Key Features
Being one of the newer themes on the market, Blocksy stands out from its competitors because of its ease of use and speed.
An array of customization features allow you to personalize every part of your website.
A global color palette with five colors includes primary, hover, para text, title and headings, and an optional color. Light and dark mode options ensure the ultimate viewing pleasure.
A header and footer builder is included with the Blocksy free package. The Pro version of this WordPress theme has advanced header builder elements such as a language switcher, contacts element, desktop menu drawer, search box, and widgets. And you can design a beautiful footer with ease with features for logos, search boxes, and buttons.
Content blocks create distinct block sections across a WordPress website and hook to other areas of the site.
The custom sidebar in Blocksy's Pro version allows you to display custom widget configurations on any page, post, category, post type, or archive page.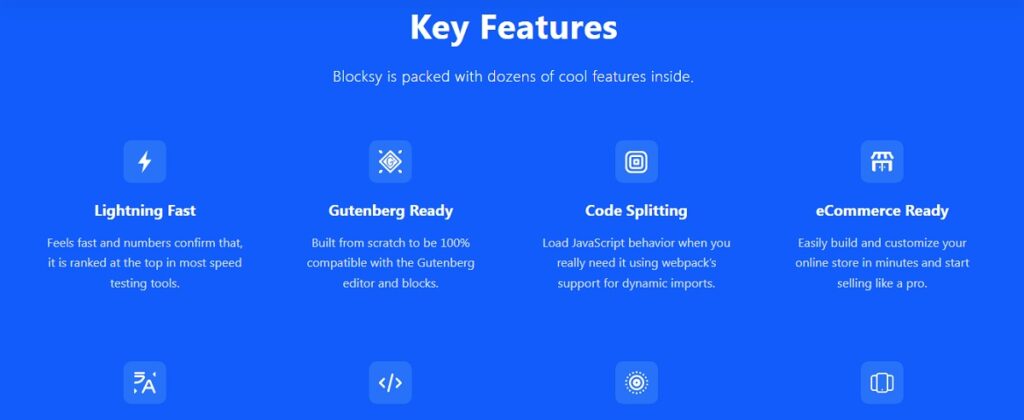 Added to these key features, the following elements have contributed to the ever-growing popularity of Blocksy among WordPress users.
Speed
While Blocksy's core performance enhancements ensure maximum speed, there is a customized Performance Pane for developers who want to adjust the standard settings. Adjustment options include:
Outputting the CSS inline (not recommended as this limits optimization options)
Disabling WordPress' built-in Emojis script
Turning on the Image Lazy Loading feature
While we are on the topic of speed, it is always a good idea to test the speed of your website. You can get an accurate picture of your site's performance with free tools such as PageSpeed Insights or GTmetrix.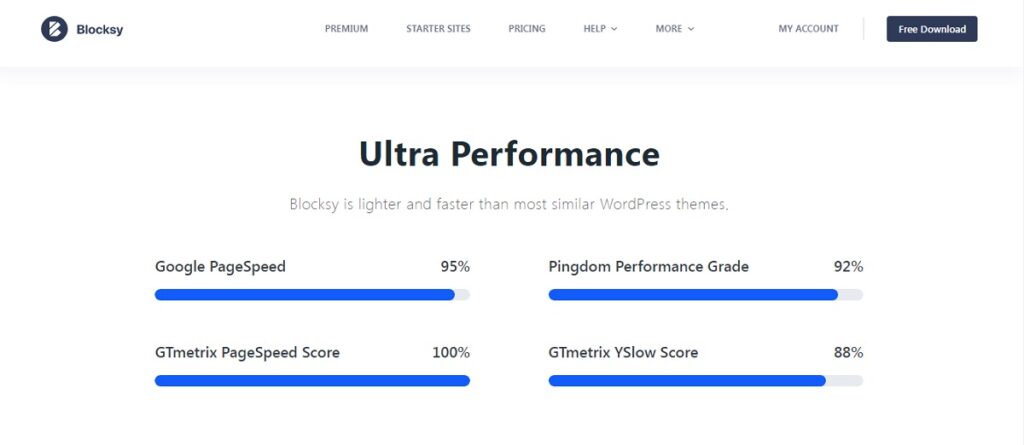 Built to Work With Your Favorite Page Builders
Blocksy Theme works with the best WordPress page builders available on the market. These plugins include:
Gutenberg WordPress Theme
Elementor
Brizy
Beaver Builder
Code-Splitting
You can use Webpack for dynamic bundle imports when you need them. The code can be loaded on demand or in parallel by breaking up larger chunks of code into smaller, more manageable pieces. Code-splitting goes a long way toward improving a website's speed and performance.
eCommerce Ready
Build and customize your online store within minutes, and start selling your products like a seasoned pro.
Some of the eCommerce features included with Blocksy are:
Integration with popular eCommerce plugins, such as WooCommerce, that allows users to easily set up and manage their online stores. Adding new products, processing orders, and managing inventory are now easier than ever before.
Customizable product pages to match the branding and style of the user's website.
Product filtering and sorting options make it easy for potential customers to find and browse products on the website.
Support for multiple payment gateways such as PayPal and Stripe.
Responsive designs that are compatible with a range of mobile devices, including smartphones and tablets.
Translation Ready
Blocksy is a flexible and customizable theme that makes it easy for users to create a multilingual website, regardless of their language or localization needs. The theme can be translated into any language and doesn't contain hardcoded strings.
Blocksy integrates with WPML, an advanced plugin. WPML converts single-language websites into multiple languages. This, together with other features, makes website translation easier.
Features include support for RTL (right-to-left) languages and options for customizing the language switcher. This functionality allows site visitors the option to switch between languages provided on multilingual sites.
Live Preview
A live preview feature gives users real-time updates while the website is being worked on. This means you can see the website's appearance and function before it goes live.
The Live Preview feature allows you to:
Customize the layout and design of a website, including the color scheme, font style, and other elements
Update content on pages, posts, and media
Preview different templates and designs to see how they will look on the live website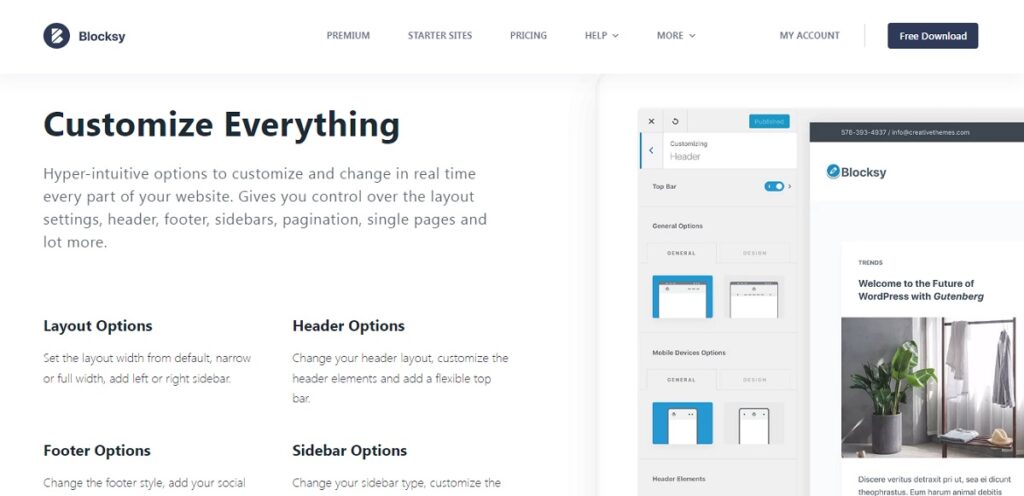 Fully-Responsive
Responsive design is important for modern websites, as it ensures that a website looks and works great on any device, regardless of the screen size or resolution. This allows users to access and interact with a website on any device.
It can also help improve the SEO of a website, as search engines favor mobile-friendly websites.
To achieve a fully-responsive design, Blocksy uses a combination of flexible grid-based layouts and media queries, which allow the theme to adapt to the size and resolution of the device it is being viewed on.
Blocksy Companion
Blocksy Companion is a plugin that adds additional functionality to the Blocksy WordPress theme. It was developed by the same team that created Blocksy and is intended to be used in conjunction with the theme. Some of the features that Blocksy Companion provides include custom:
Widgets for the WordPress sidebar (and other widget areas)
Shortcodes for adding custom content to posts and pages
Post-types for creating custom content types in WordPress
Templates for a single post and page layouts
When you install Blocksy Companion, you can extend the capabilities of the Blocksy theme. This makes creating even more unique and customized websites easier than ever before. It is important to note that Blocksy Companion is a premium plugin and requires a separate purchase.

Blocksy Review – Customer Support
As it does for all its products, Creative Themes provides hassle-free and reliable support for the Blocksy WordPress theme.
Whether you have a question or need some help with a theme, the Blocksy team's support center is on hand to help and guide you every step of the way. The support center's average response time is 24 hours (Monday to Friday). However, in most cases, agents respond within three hours.
Alternatively, fellow users are always on hand with product advice on Blocksy Facebook Community.
Customers can also contact Creative Themes via their website or by email to request online support.
Documentation
Customers can easily access support literature, tutorials, and other resources to help them use and customize the theme. The documentation is designed to be comprehensive and easy to follow. This provides users with all the information and resources they need to use and customize the theme.
A demo site has been added to give you a practical glimpse of the theme. Additionally, short video tutorials are available to help you set up, customize and master the technicalities quickly and effectively.
This resource will help users understand and get the most out of the theme, whether they are experienced users or new to WordPress. Blocksy documentation includes:
Installation and setup guides that provide step-by-step instructions for installing and setting up the theme on a WordPress website.
Customization guides that have information on how to customize the various elements of the theme. This would include layout, color scheme, and other design elements.
Troubleshooting and FAQs that share common issues and questions users may have when using the theme. This also includes solutions and best practices for addressing them.
Support Forum
Ask questions and get help with any issues from a Facebook support forum monitored by the Creative Themes team.
Although the team strives to respond to inquiries within 24 hours, many users report fantastic turn-around times of as little as three hours!
How Much Does the Blocksy Theme Cost?
Blocksy gives you a choice between a free WordPress theme and a Pro package theme.
The free Blocksy theme comes with basic functionality. Download it and give it a try.
If you want to receive access to all the great features for designing the most advanced WordPress site, you have the option to buy into the Pro functionality. This option includes starter sites and premium sites designed to meet the needs of category-specific users.
The Blocksy theme packages include:
Personal Use
Professional for Online Businesses
Agency for Freelancers and Agencies
Furthermore, there is also an option for annual or lifetime subscriptions. By selecting the latter, you won't have to deal with yearly price increases.
Read on to learn more about Blocksy's pricing and package features. We also add an impactful review of each package.
Personal Use
Cost – $49 per year or $149 one-off lifetime fee
Includes one site license
Blocksy Personal Use is ideal for personal websites, blogs, and influencers.
Key features of Blocksy Personal Use include:
Customization options 
Pre-designed templates 
Support from the developers and users with any issues or questions
Professional for Online Businesses
Cost – $69 per year / $199 one-off lifetime fee
Includes five site licenses
Blocksy Pro is a premium version of the Blocksy WordPress theme. It includes extra features and functionality specifically designed for professional online businesses.
Key features of Blocksy Pro include:
Integration with popular e-commerce platforms such as WooCommerce makes it easy to sell products and services online
The ability to customize the appearance of your site using the included visual builder tool
Pre-designed templates that you can use to create professional-looking websites, fast
A range of plugins and extensions that you can use to add functionality to your website (this includes forms, e-commerce functionality, and more) 
Support from the developers and a large community of users
Agency for Freelancers and Agencies
Cost – $99 per year / $299 one-off lifetime fee
Includes unlimited licenses
Blocksy Agency is a premium version of the Blocksy WordPress theme that includes more features and functionality specifically designed for freelancers and agencies.
Key features of Blocksy Agency include:
A range of customization options, including the ability to customize the appearance of your site using the included visual builder tool
Templates that are designed to let you create professional-looking websites, quickly 
Plugins and extensions enhance website functionality (forms, e-commerce functionality, and more)
White labeling options allow you to remove the Blocksy branding from your website and replace it with your branding
Support from the developers, as well as a large community of users, are on hand to help you with any issues or questions you may have
Free Version
If you want to test-run Blocksy before you "add to cart," Creative Themes does offer a free version of Blocksy that users can try out before purchasing a license. This version has limited features.
Blocksy Free includes a starter template and a limited set of features and options. It can't be compared to Blocksy Pro, but it can still be used to create a functional website.
Although this has been called the best free WordPress theme, users who want access to the full range of features included with Blocksy will need to buy a license.
Blocksy Theme Review – Pros and Cons
Like any WordPress theme, Blocksy has pros and cons to consider when deciding whether it is suitable for your website.
Loads quickly on a variety of devices

Customization options include a header builder and footer builder

Responsive design adapts to different screen sizes and resolutions

Clean semantic code that is easy for search engines to understand

Regular updates with new features and bug fixes

Detailed online documentation, video tutorials, and dedicated support forums

Compatibility with many popular WordPress plugins

Translation-ready, allowing users to select their preferred language
The free version is fairly limited

Certain features are only available as part of the Blocksy Companion plugin

The customization option and features can be overwhelming for users who are new to WordPress or unfamiliar with the theme

Compatibility issues with certain plugins and custom codes
Blocksy Alternatives
The Blocksy WordPress theme has many alternatives. The best alternatives are based on verified reviews, community votes, and other factors.
If you are interested in researching or comparing WordPress themes, here are a few alternatives you might consider.
Astra
Astra theme is one of the most flexible and fastest WordPress themes available. It is intuitive and offers deeper integration with WooCommerce. With Astra's unique features and countless customizations, you can build a store that matches your brand.
Want to know if Astra is the best theme? Read our Astra theme review.
Besides design, speed, and endless customizability options, there are many other reasons to consider the Astra theme, which we will touch on below.
Pricing
Astra – Free
Astra Pro – $47 / $227 (annual fee/lifetime access)
Essential Bundle – $137 / $677 (annual fee/lifetime access)
Growth Bundle – $187 / $937 (annual fee/lifetime access)
Five Key Features
A lightweight theme advertised as being less than 50KB when gzipped
A vast library of over 200 starter templates suitable for a multitude of niches
Compatibility with existing page builders (Elementor, Beaver, Brizy, and Gutenberg – the default WordPress block editor)
Customization options via the WordPress Customizer
Clean and developer-friendly code
---
GeneratePress
GeneratePress is a lightweight WordPress theme that focuses on speed, stability, and accessibility. Whether you're a hobbyist, freelancer, or agency, using this theme will launch your website on a good note.
Read our GeneratePress review to see just how fast it is.
Pricing
GeneratePress – Free
$59 – annual fee
$249 – lifetime access
Five Key Features
Focused on performance optimization and clean code
A multipurpose theme that can be used to build any type of website for any niche
Flexible option in the real-time WordPress Customizer
Page-level controls to adjust content on a piece-by-piece basis
Access to over 80 importable demo sites covering a range of niches, including business websites, eCommerce stores, and blogs
---
OceanWP
OceanWP is the perfect theme for your project. Lightweight and extendable, it will enable you to create just about any type of website. This includes business, portfolio, blog websites, and WooCommerce storefronts with beautiful and professional designs. Clean and elegant, it's a responsive theme that scales to your screen perfectly.
Pricing
OceanWP – Free
Personal (three sites) – $43 / $178 (annual fee/lifetime access)
Business (six sites) – $71 / $285 (annual fee/lifetime access)
Agency (50 sites) – $127 / $509 (annual fee/lifetime access)
Five Key Features
Single post customization options with the free OceanWP Extras add-on, allowing individual posts to be engineered to suit your business and target audience 
Options to enable and disable specific individual JavaScript scripts and CSS snippets to improve how fast your website loads
An array of hooks and conditionals make it easy to insert content into different areas of your site without needing to edit the theme's code
Deep WooCommerce integration
Additional free and premium extensions, as well as tons of other helpful functionalities
---
Conclusion – Blocksy Theme Review
Wrapping up the Blocksy WordPress theme review, we conclude that Blocksy is one of the fastest WordPress themes. It is suitable for a wide range of website types and industries.
Be aware that while Blocksy is a powerful and feature-rich theme, it may not be the best choice for users looking for a simple, out-of-the-box solution. If you aren't willing to invest in additional plugins or customization, it is best to reconsider your options.
Yet, for those willing to buy in, the user-friendly design, professional-looking websites, and range of features make it a popular choice.
After reading this Blocksy review, we hope you are inspired to go ahead and try the Blocksy WordPress Theme for yourself.