Selling homemade candles is a great business venture for creative people who love home decor and fragrance. You have the passion for starting your homemade candle business, but now you're looking for guidance on what to do next. Our guide on how to start a candle business will tell you the step-by-step process you can follow in order to get started.
How to Start a Candle Business
The steps for learning how to start a candle business are:
Conduct market research on the candle industry
Create a business plan
Source your materials for making your candles
Choose a channel to sell your candles, like Etsy or your own website
Make your candles
Start marketing your candle business
Let's take a more in-depth look at each step.
1. Conduct Market Research on the Candle Industry
The first step in starting a candle business is to conduct market research. Before you purchase materials, design a logo, or open an Etsy store, you first want to make sure you understand the market.
Researching the candle making industry is important because it will help you determine:
Which need in the market you want to fulfill. How are your candles different from all the other candles available on the market?
What price point you want to sell candles at. This is where you can start to think about whether you want to charge $10, $40, or $150 for your candles.
How you want to sell your products. Do you want to sell on Etsy, at local craft stores, or from your own website?
At this stage you can research other candle businesses, see what scented candles they're selling, and understand potential price points.
What to Look for When Researching Candle Companies
Here are a few important pieces to consider when doing your own market research:
Scents: This can include both popular scents and scents that are noticeably missing. This could indicate a gap in the market for unique scents that you could create.
Vessels: What types of candle holders do you notice? Do you prefer the look of glass or ceramic? What vessel types are noticeably missing from the market?
Price: Take note of the different price points available in the market. What differences do you notice about the candles that cost $10 versus the candles that are $40 or even $150?
Branding: Notice what logos, colors, and brand stories you like and which ones you don't. Does your brand ethos cater to an audience that wants soy wax candles? Or does your audience not even notice if they're purchasing paraffin wax candles? Knowing this information will help you tailor your product offering. It will also give you inspiration when creating your own candle brand.
Selling Platform: What platform are they using for selling candles? Knowing whether your competitors are selling on Etsy, on their own website, or even in person can help you determine which platform will be best for you.
Suppliers: Whether it's your local craft store or a distributor, what suppliers are available for you to purchase from? Researching suppliers of candle wax, fragrance oils, and vessels is a great place to get started.
You don't want to skip this step! The research that you compile in this step will help you in other stages of the candle making process.
2. Create a Business Plan
Creating a business plan is important for small business owners because it provides the framework for how you plan on conducting your business.
As with the rest of your business decisions, you want to create a business structure that is authentic to your brand.
Business Plan Outline
A solid business plan for a candle-making business will typically include the following information:
Executive Summary: This section should summarize what your business will be offering and what makes it a great idea. You can include your company name, mission statement, information about your decorative candles, and any employee information, if applicable. If you're not sure what to name your business, our list of candle company name ideas can help you get started.
Business Description: New business owners should describe their company in detail. You'll want to discuss your target audience, the competitive advantage your small business has, and any other specific strengths that set you apart. While it's not a necessity when starting your own candle business, creating an LLC is an available option. If you would like to move forward with creating a limited liability company for your candle business, an LLC formation service can easily help you through the process.
Analysis of the Candle Market: All of the market research that you did in the first step will be very helpful when writing this section of your business plan. This is where you will provide your assessment of the market, including real-world examples and the candle business opportunities you uncovered.
Candle Line: In the product section of your business plan, you will describe the candles you plan on making. This includes the candle supplies you plan on using, how they benefit your customer, and what happens to the item after your customer is done using it.
Sales and Marketing Strategy: How do you plan on marketing and selling to potential customers? This section will describe your plan for drawing in your target market, making the sale, and earning money selling candles. This includes how you plan to conduct the sale, whether it's through Etsy, your own website, or retail stores.
Sales Projections: How much do you predict you will sell in your first month? How much do you plan on selling in your first year? Here is where you disclose your projections for how much you expect to sell.
Free Business Plan Guide
If this information feels overwhelming to you, there are guides that can help! A business plan template can give you a great place to start and will guide you as you write it.
3. Source Your Candle-Making Materials
After you've researched your target market and created your small business structure, it's time to source your supplies.
While this isn't a comprehensive list, here are some of the materials you'll need to source for your homemade candles:
Wax: There are a variety of waxes to choose from, including paraffin, beeswax, and soy.
Fragrance Oil: Do you plan on using essential oils or natural fragrance oils?
Vessels: The vessel options available to you when you create candles are seemingly endless. From glass jars to uniquely-shaped ceramic containers, sourcing your vessels can be a particularly creative part of starting a candle making business.
Labels: Do you plan on designing and printing your own labels, or will you use a printing company?
Wicks: Choosing the size and type of wick that you need is a very important part of your candle business.
Additional Supplies: The list of additional supplies you'll need can include a thermometer, high-temperature glue, large pots, packaging supplies, and more.
When you feel stuck making any of these sourcing decisions, refer back to your business plan. This will help you make sure that you're sticking to the brand story that you created.
4. Choose a Channel to Sell Your Product
An important part of starting your own business is deciding where you are going to sell your scented candles.
While this decision might feel like an afterthought to creative minds, it's actually very important. It's important because it determines the customer experience, how you will accept payment, and your operating costs.
Etsy
Etsy will provide you with one of the lowest barriers to entry for selling candles.
Before you launch your business online, perhaps you're wondering is Etsy legit? Etsy is a great place to launch your candle making shop.
The benefits of starting your candle making business through Etsy include:
having a straightforward process for opening your own Etsy store to sell candles
providing a variety of easy options for accepting and processing payments
eliminating the need to create your own website
offering a large number of customers that can search the platform and find your products
While opening an Etsy store itself is free, sellers do pay a listing fee and a portion of their sales back to the platform. It's up to you to determine if these fees are worth it to you based on the other benefits Etsy provides. Learning how to make money on Etsy will help set your candle business up for success on the e-commerce platform.
Your Own e-commerce Website
Creating your own website for your candle business is going to be a more intensive process than opening an Etsy store.
Here are a few important aspects to consider when creating a website for your candle making business:
Domain Name: Your domain name is important for brand recognition and SEO. Buying a domain name that correlates with your candle business name is key, so your target market can easily remember and recognize it when they go to search for it. Domain name services like Namecheap provide an easy and inexpensive way to search for the perfect domain name for your candle business.
Hosting: Deciding on a website hosting service for your candle business is very important, especially when customers are purchasing products through your website. Website hosting is important because it will determine your website speed, the experience potential customers have on your website, and if your website is reliably up and running. A fast and secure hosting provider like Iridium can help give you peace of mind that your website is performing at its best.
Theme: A website's theme is key because it creates the visual appearance of your website. This includes page layouts, backgrounds, fonts, colors, and more. Astra is great for providing fast and lightweight WordPress themes that are customizable. Meanwhile, GeneratePress is great for providing premium WordPress themes.
Site Map: A site map lists each page of your website. Here you will decide what pages you want to include on your website, like an About page, Product page, and more. Deciding what pages you would like to have on your website and how you want your customer to navigate through them will be a key part of the customer journey.
5. Make Your Product
Now it's time to take all of the information you've learned about how to start a candle business and actually make the candles! The process of making candles for your small business should be exciting and enjoyable.
There are a variety of different ways to execute the candle making process. Doing your research and deciding how you want to make your candles will help determine the direction of your business.
This step is a very concrete advancement in the entire process. It's a time when you get to use your creative energy as you make something with your own two hands.
6. Market Your Business
Now that you've created your business plan, sourced your materials, and decided how you're going to sell your candles, it's time to create a marketing plan that will boost your candle sales.
A marketing plan is designed to help you reach your sales goals. It should include information like who your target audience is, the channel you want to reach them through, and how you plan to execute your marketing ideas.
Things to consider when putting together your marketing campaign include:
Audience Analysis: Who is your target audience? It doesn't matter how much you spent on radio ads if your target audience doesn't listen to the radio. Thoroughly understanding your audience, including their pain points, demographics, and psychographics will help you better be able to market to them.
Which Channels You're Going to Use: After you understand who your audience is, you can effectively choose which marketing channels to target them through. Marketing channels can include podcast advertisements, influencer marketing, email marketing, and social media ads. This step also includes deciding which social media channels to create an account with for your brand. A few main ones to consider are Pinterest, Instagram, TikTok, and Facebook.
Contests: How can you use contests and giveaways to create excitement around the launch of your product? Decide how much free product you are able to give away in order to create engagement on your social media from these contests.
Candle Business Examples to Inspire You
Sometimes when you're just starting out, you need some inspiration to spark your own creative idea. Looking at what other candle businesses and brands are doing in today's marketplace can help give you an idea of what works and what doesn't work. You can then apply these insights to your own business.
Here are a few candle business examples to draw inspiration from when building your own candle making business:
Small Candle Business: TheDancingWick on Etsy
Mid-Market: Paddywax
Luxury: Trudon Candles
Candle Business Example 1: The Dancing Wick
The Dancing Wick is a great example of how to start a candle business on Etsy.
This mass market small business offers a variety of popular scents like autumn wreath, Christmas tree, vanilla almond, and more. They use glass jars with metal lids that create a classic and rustic feel. The Dancing Wick's price points appeal to the masses at around $10-$20, depending on the candle size.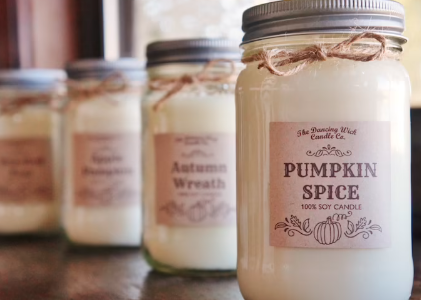 By taking a deeper look at their offering on Etsy, you can tell that this small business caters specifically to offering gifts and party favors. The types of occasions they cater to include bridal showers, bachelorette parties, weddings, birthday parties, holidays, and more. The labels for their candles are even customizable to reflect each special occasion.
Offering this customization service as part of their business allows them to fill a specific need for their audience. By simply coming up with their own labeling process, they're able to offer this solution in a way that's cost-effective and profitable for their business. It's also a great opportunity for them to earn bulk orders for large parties like weddings or bridal showers.
While their product offering looks large, they are actually addressing the needs of a specific niche in the market.
Candle Business Example 2: Paddywax
Paddywax is a great candle brand to pull inspiration from. With its decadent scents, beautiful vessels, and mid-market sales price, this Nashville-based business is operating intentionally.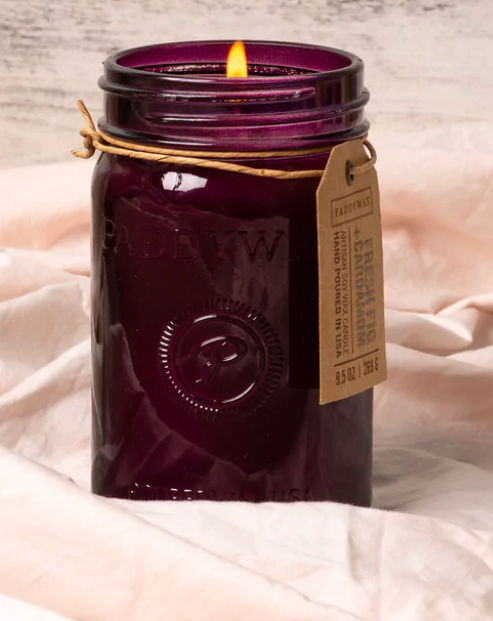 The soy wax candles are hand-poured in a variety of scents like cardamom and fig, salted blue agave, and cactus flower bamboo.
In addition to having a beautiful e-commerce website, Paddywax also sells its scented candles in small boutiques and local stores throughout the United States. This further solidifies this brand in the minds of consumers as one that's worth a slightly higher price point.
Paddywax is a great example of combining the strategies of both selling online and selling in person at local boutiques and gift shops. This brand also illustrates how branding and marketing can help increase the value of your product in the minds of consumers.
Candle Business Example 3: Trudon Candles
When it comes to luxury candles, Trudon takes prestige to a whole other level. Their brand story also has some incredible history to match the luxuriousness of their candles.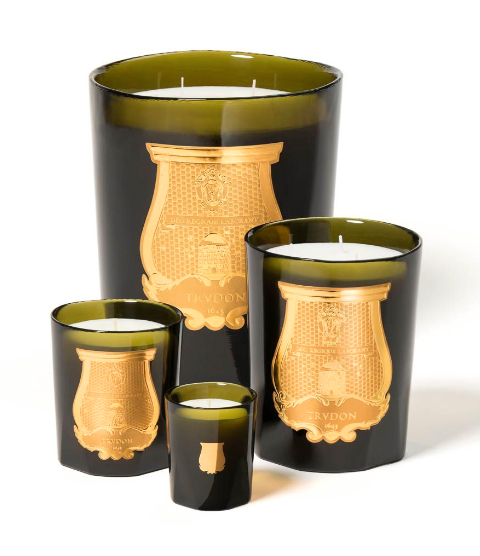 Trudon has been making candles since 1643. This company even supplied the Palace of Versailles with candles until the monarchy ended. With beautiful and unique scents like Moroccan mint tea, gourmand chimney fire, and old mossy walls, this brand takes its scents seriously.
If you're wanting to start a prestige candle brand, Trudon is a great brand to study. While this brand might seem intimidating to a new candlemaker, it's a great one to pull inspiration from.
Final Thoughts on How to Start a Candle Business
Starting your own candle business is an exciting venture that allows you to use both your creative and analytical skills as a business owner. Now that you have a more thorough understanding of the steps needed to start candle making, it's time to get started on your business!