Platforms like Calendly are a great way to schedule meetings efficiently—whether it's one-on-one meetings with your team members or a discovery meeting with a potential client. Although Calendly is a popular option, it does have some limitations in what it offers. Here are 13 Calendly alternatives that can help you schedule appointments and manage your time efficiently.
1 – Setmore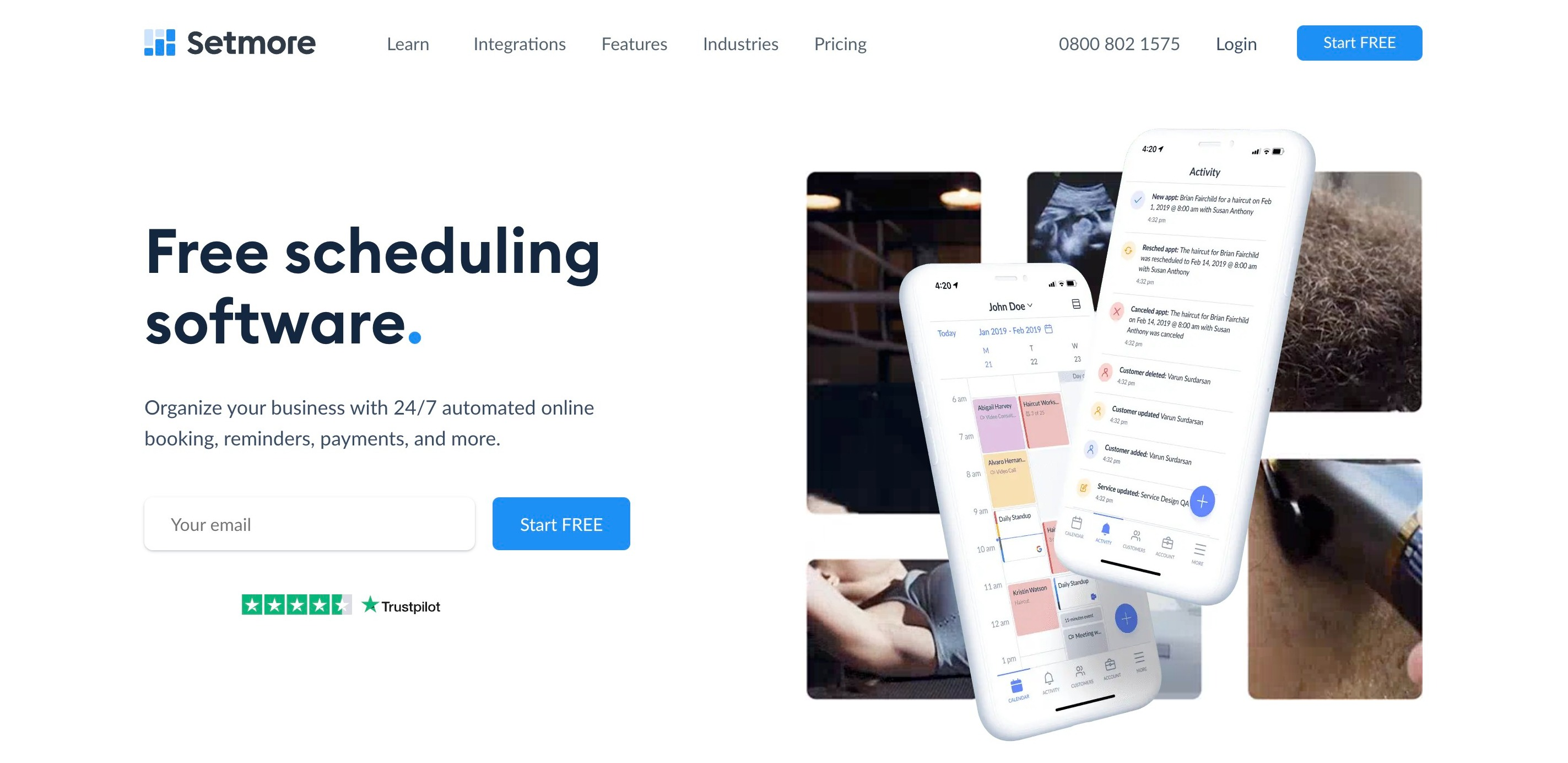 Setmore is a free app that allows you to accept online bookings, take payments, set reminders, and more. This scheduling app offers a simple, easy-to-navigate user interface without any unnecessary clutter or complications.
There are a few things to learn, but the app itself makes self-training simple to achieve.
Setmore also has a chat facility built into the app which enables you to easily chat with a member of their team if you are having any issues. A library of documentation for reference is also available if you would prefer to learn off the job.
The pricing structure is competitive with cost-saving plans that offer reduced costs per staff member as the size of your workforce increases.
Setmore Pros and Cons
Pros:
Can be customized per industry
Easy-to-use interface & mobile app
Helps you manage online reviews
Offers a wide range of integrations
Deal with staff scheduling and workflow
Cons:
Doesn't have many analytic features
Only allows payments via Stripe and/or Square
Setmore is one of the best Calendly alternatives for sales teams and businesses providing services to their customers.
Pricing
Paid plans start at just $5 per user per month. Setmore also offers a free plan for up to 4 users. This has loads of great features including social media and CRM integrations. 
2 – Trafft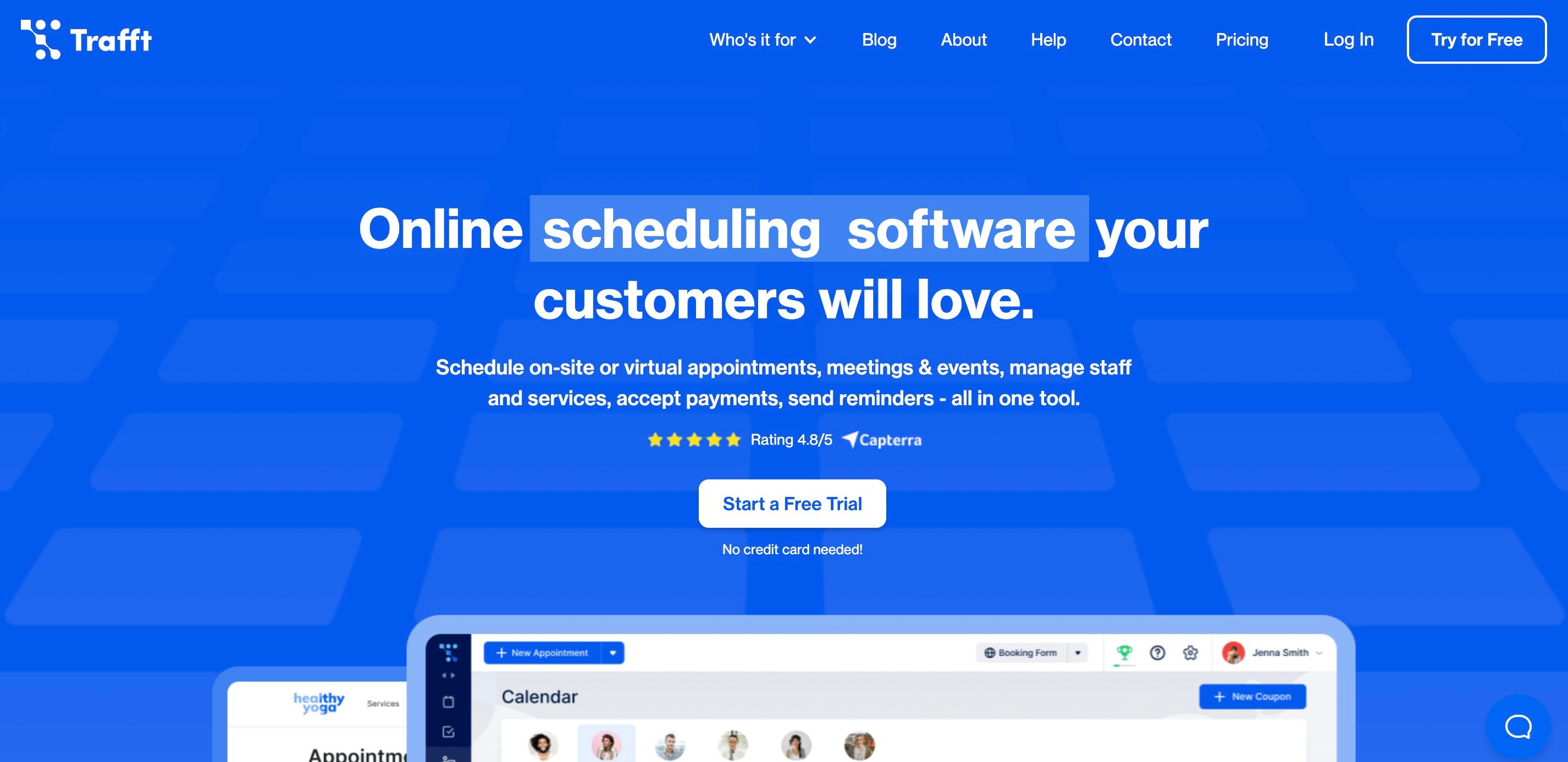 Trafft is a smart appointment scheduling tool with a number of handy features that would work for people in a range of industries.  However, it's most popular with those in customer-facing industries such as salons, gyms, and even the medical profession.
This Calendly alternative is well-liked because it offers handy features such as automated scheduling and the opportunity to sync it with your other calendars. This is great for those that want to be super organized.
It also has great facilities for arranging recurring appointments (something that Calendly lacks currently). It will even send out automated confirmation and reminder messages.
Trafft Pros and Cons
Pros:
Able to handle group meetings
Great mobile app
Sync with other calendars
Easy automated scheduling
Book recurring appointments
Free plan available
Cons:
No mobile app
No API, although apparently, it's coming soon
Although Trafft doesn't have its own mobile app, it's worth noting that the site is fully mobile-optimized. This means you still get a great user experience and can use the scheduling tools whether you're using it on a phone, tablet, or desktop.
Pricing
Prices start at $12 a month for up to 20 users, making it one of the most affordable Calendly alternatives around. Trafft also has a free plan for one user selling up to 5 services.
3 – SimplyBook.Me & SimplyMeet.me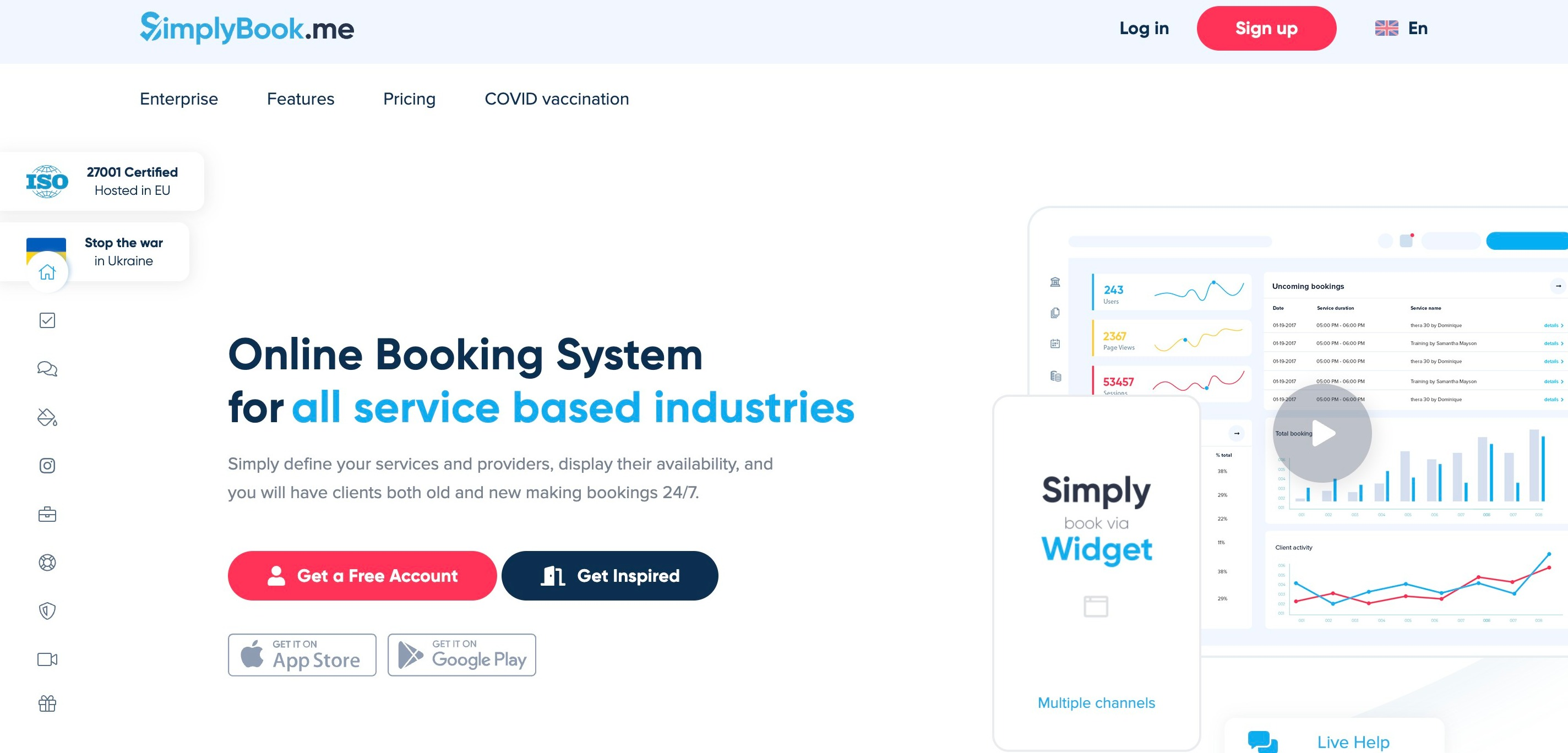 Tailored towards service-based businesses, SimplyBook.me offers a wide range of useful features. These include:
Accepting online bookings
Email and SMS notifications
Client and Admin app
Memberships and packages
POS systems
They also offer SimplyMeet.me as a simpler alternative for those who just want to schedule meetings.
You can set up various services on the platform and let people know your availability. It also has the added bonus of offering additional services such as client management, help with sales and marketing, and even a web design feature.
SimplyBook Pros and Cons
Pros:
Allows you to integrate your bookings into social media websites such as Instagram and Facebook
Offers a range of versatile templates for websites and widgets
Monitor sales and business performance via their analytics section
Cons:
Not the best customer support
Very few templates to choose from
For those that have a service-based business, SimplyBook.Me could be the perfect solution. It also offers tailor-made solutions, making it one of the best Calendly alternatives for those within the service industry.
Pricing
Both SimplyBook.me and SimplyMeet.me offer a free plan. You can see how they compare here. Plans range from the Basic Plan at $9.99/month up to the Premium Plan at $59.99/month.
4 – Acuity Scheduling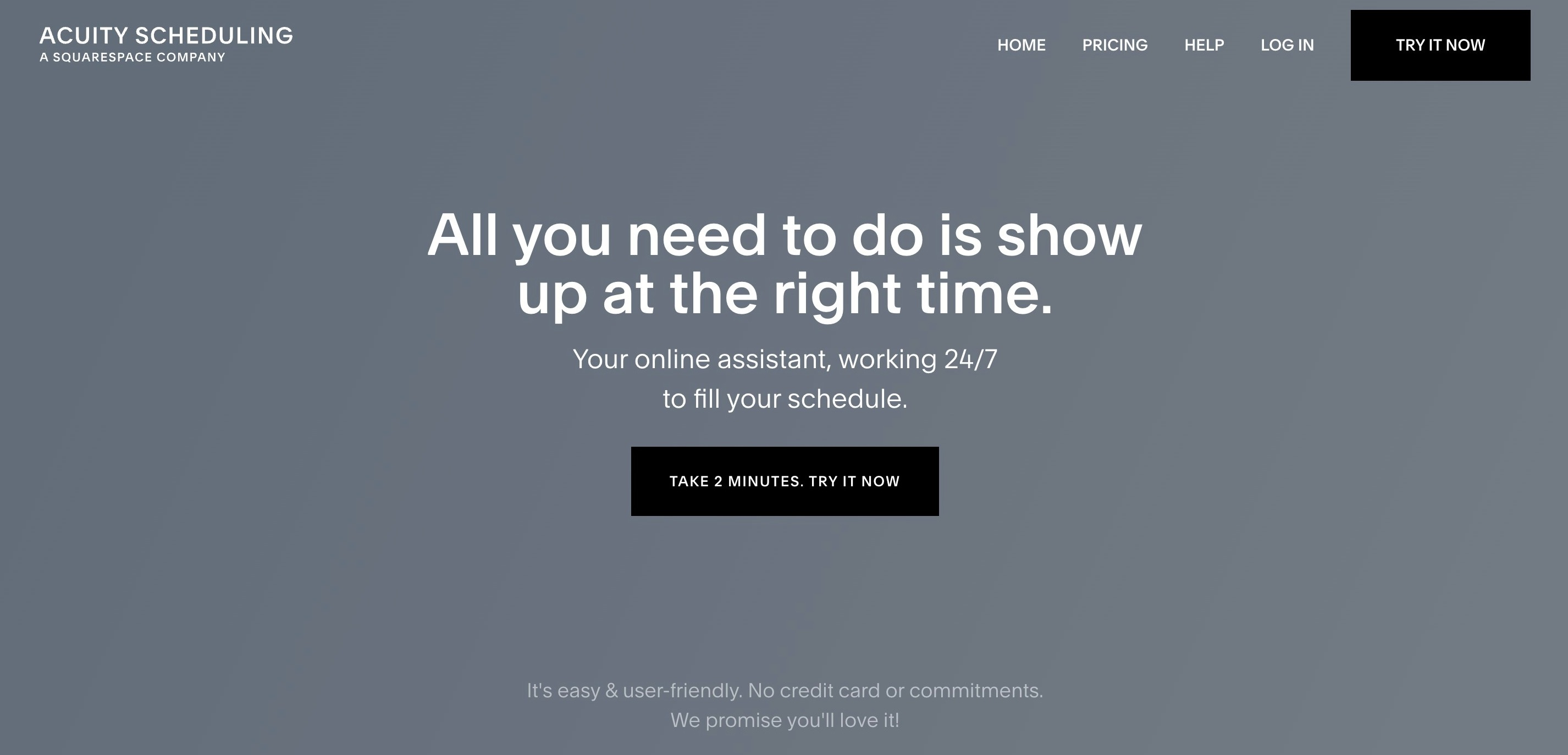 Acuity's software has been developed to provide scheduling and booking tools for service providers and small businesses.
The features included in Acuity's product have been built to support businesses that often have to accommodate recurring events. However, it also provides the flexibility for scheduling irregular events.
For businesses looking to drive sales forward, Acuity offers a number of features that are potentially useful. This includes memberships as well as being able to offer vouchers and gift certificates.
The system also enables the vaulting of credit card details. This gives businesses the ability to store customers' credit card details with a credit card vault. The benefits this brings include the independence of payment providers and a good system to manage data security.
Acuity Scheduling Pros and Cons
Pros:
Able to manage bookings across different time zones
Able to customize to incorporate your brand
Can embed calendar directly onto your website
Easily coordinate group meetings
Integrates well with Google Calendar
Cons:
Different types of appointments can make things confusing
The calendar can be tricky to navigate
Acuity is built to cover the requirements of scheduling appointments, while Calendly has a stronger focus on consultations. Simply put, Calendly can provide a simple approach without additional complications.
Pricing
This appointment scheduling software offers 3 payment options from $14 up to $45 on either an annual or monthly plan. Unfortunately, it doesn't offer the option to sign up for a free trial.
5 – Fresha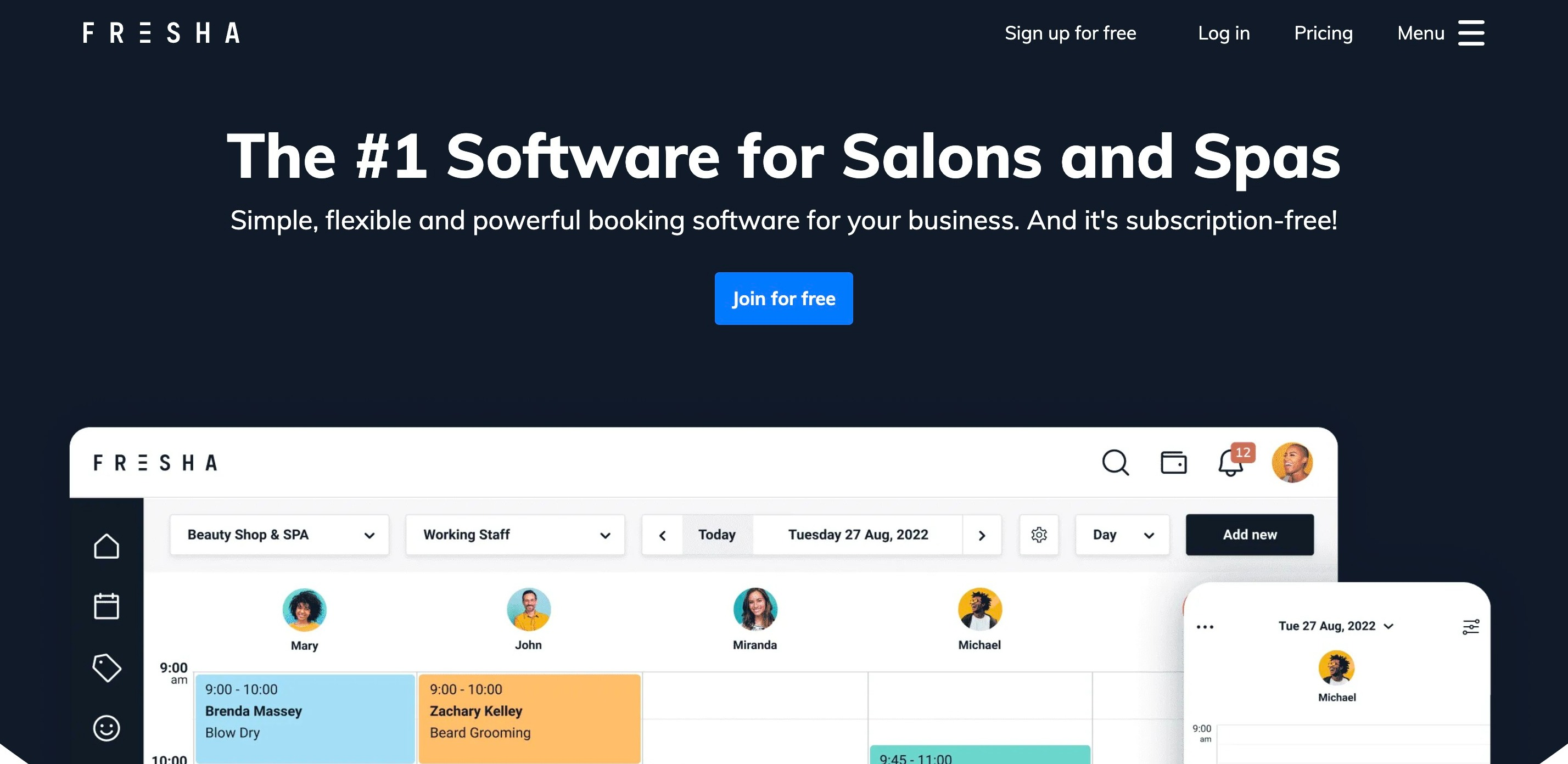 Fresha is designed as a marketplace for the beauty community, and it's proving very popular. It's one of the best Calendly alternatives for spas, salons, and even freelance stylists.
Fresha is a subscription-free platform that allows business owners to set up options for:
Appointment scheduling
Payment processing
POS
Marketing
Online store and product inventory
Analytics and reports
Fresha offers low payment processing fees, and it allows business owners to manage everything in one place.
There is also a mobile app available for both customers and business owners to make things easy. This is a great feature that allows you to easily offer promotions and special offers to your regular customers.
Fresha Pros and Cons
Pros:
Allows you to manage a range of payment processing options
Lets you manage an unlimited number of calendar bookings
Inventory control built-in
Free to use
Great apps for both the customer and the business owner
Cons:
Doesn't integrate with any other calendar apps or tools
You pay a 20% commission on new customers received through the marketplace
With the option to allow a salon manager to view the teams available in one view, it's an easy way to manage the workload of multiple staff members.
It even allows you to process no-show penalty fees for those that miss numerous appointments. With the option to use it both on a smartphone and via desktop, it has something for everyone within the beauty industry.
Pricing
The standard package is completely free and offers unlimited usage. However, there are a few extras you can pay for if you wish to do so. This includes sending optional marketing messages to your customers and paying a one-time 20% commission for any new customers you receive through the Fresha Marketplace.
6 – HubSpot Meetings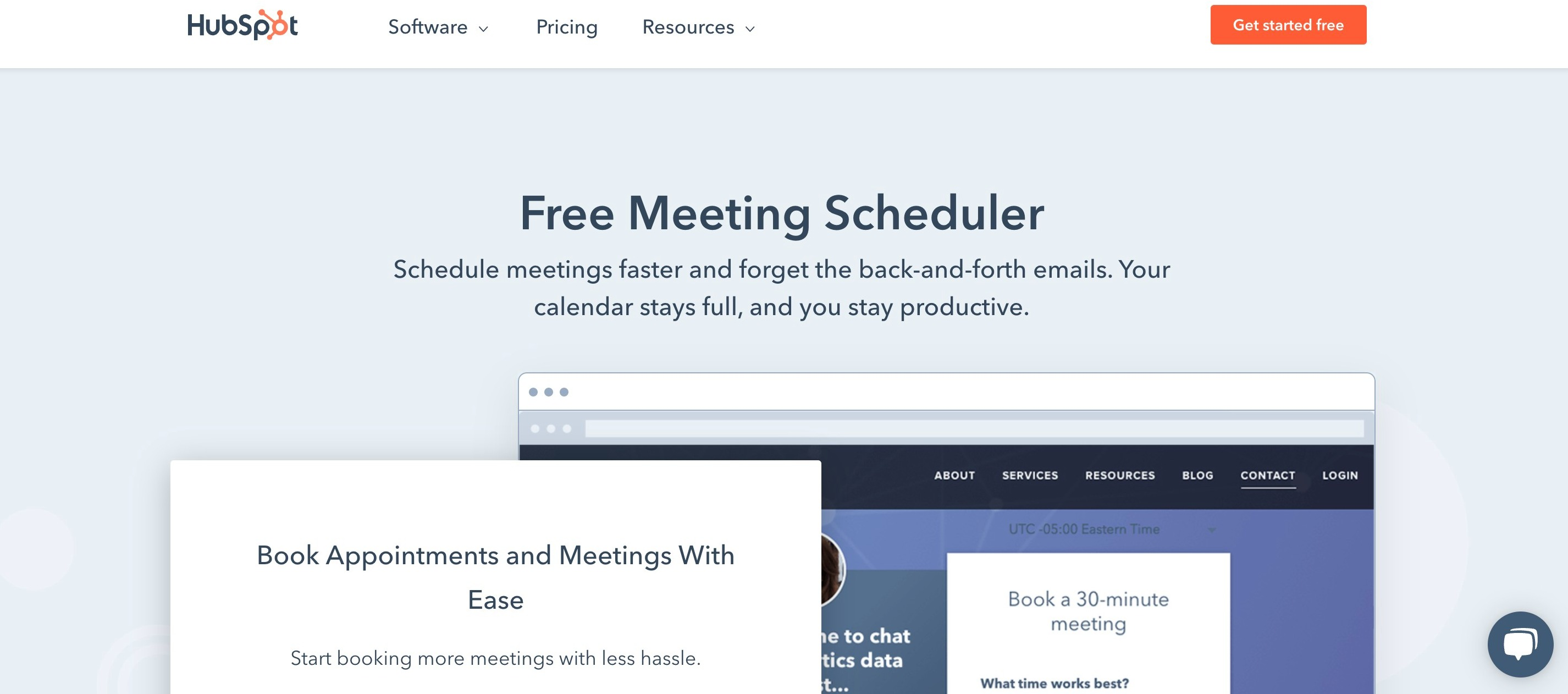 HubSpot's meeting scheduler provides a straightforward tool for basic scheduling requirements.
It includes facilities to create individual teams using its sales hub which enables integration with the meetings tool. From this, you are able to extract information and data from HubSpot's range of other applications.
This is useful for setting up meetings, knowing the data you need will be on hand. Contact module fields can be included on the app's scheduling form, which simplifies data acquisition too.
HubSpot Meetings Pros and Cons
Pros:
You can schedule blog and email content
Easy to track responses to meeting invites
Free to those already using HubSpot CRM
Cons:
Limited capabilities if you're not using HubSpot CRM
Doesn't offer Book Now meetings
To help manage the workload and spread it across your team, HubSpot also offers its round-robin system which uses an algorithm to allocate appointments throughout your team. This makes it one of the best Calendly alternatives for larger sales teams.
HubSpot, unlike Calendly, does not offer its meeting tool separately, so this may be a factor if you are not intending to use all of the features of HubSpot.
Pricing
Free! HubSpot Meetings is part of the HubSpot Sales Hub which is free to use. There are also paid plans available if you want additional features and access for extra team members.
7 – Doodle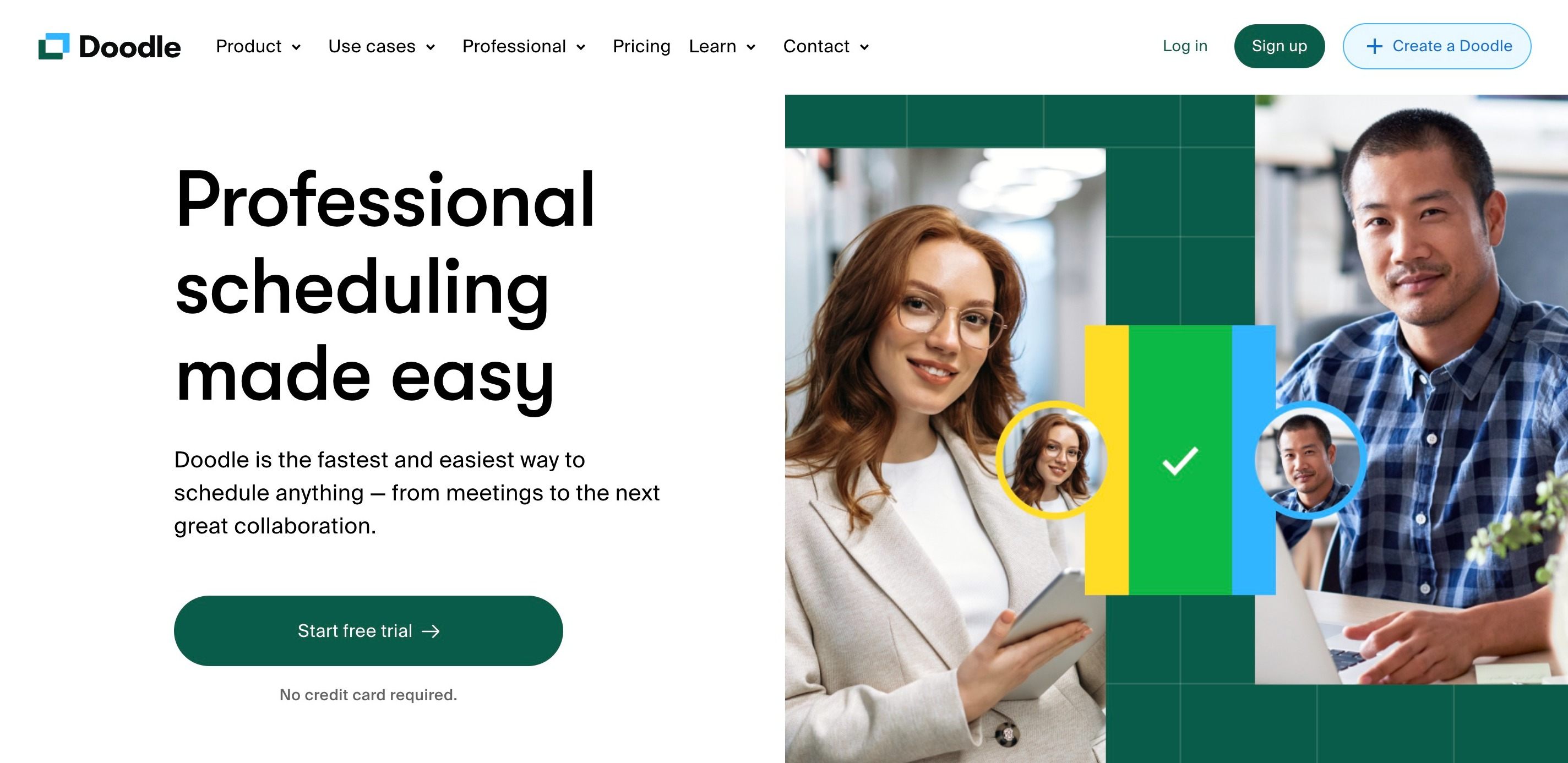 Doodle was one of the earlier offerings to become available within the sector. It's an extremely popular online scheduler for meetings offering surveys, polls, and easy-to-use calendar facilities.
The poll facility can make it easier to schedule meetings that involve many people, giving each person the independent means to forward times that suit them.
The survey facility also offers a great way to obtain and collate information or opinions from a large group of people.
A bookable calendar is great for making your availability known and giving people the ability to choose a time slot that suits them easily.
Doodle has a single sign-on facility and it offers access to a dedicated success manager to help with any information you may need or any issues you are having. 
Doodle Pros and Cons
Pros:
You can set up polls to see when the most people are available for a meeting
Easy to create and edit different availability options
Good level of online support available
Cons:
Additional charges for things like backgrounds and fonts
Many users comment that Doodle sends too many promotional emails
With support provided by a dedicated success manager, Doodle is a good choice for larger companies and organizations, particularly when the majority of their meetings are between internal staff or sales teams.
Pricing
Doodle Pro starts at just $6.95/month per user. If you have a team, you will need the Team plan which starts at $8.95/month per user for up to 20 users.
Larger teams will need to inquire about an Enterprise plan.
8 – Calendar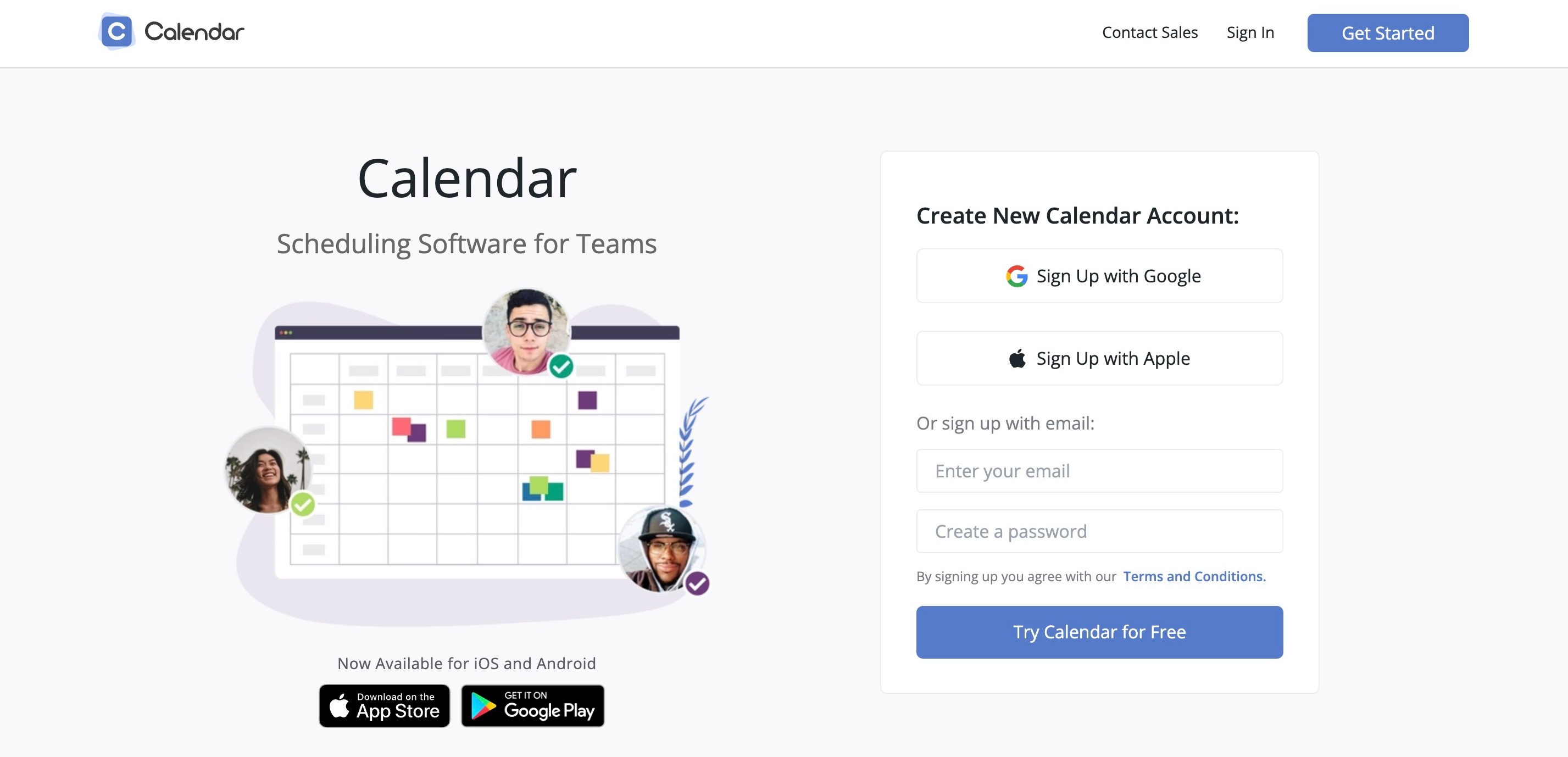 Calendar has been a prominent name in this sector for a long time. It is a polished solution that provides an easy-to-use, uncluttered interface to access its features.
This Calendly alternative offers features that will appeal to smaller users and bigger businesses alike. Offering access on many platforms, the app is available as a free version which can be upgraded to one of their payment plans as the needs of your business progress.
It offers the ability to see your schedule in different formats. This includes daily, weekly, or annually formats.
It's straightforward to share your calendar with other users. Limitations of the free version mean meetings are limited to 5 attendants without a paid plan. 
It also gives you the ability to embed calendars within websites which can be useful. That's a feature not all apps in this sector offer.
Calendar Pros and Cons
Pros:
A good variety of features
Support for many platforms
Pricing plans to suit a wide variety of users.
Cons:
Integration with other services could be more comprehensive
Meetings are limited to 5 attendants on the free plan
Pricing
The Standard plan starts at $6/user per month, and the Pro plan costs $8/user per month. Calendar also offers a free-forever plan called Calendar Basic. 
9 – YouCanBook.Me

Snazzy name aside, YouCanBook.Me boasts that they handle over one million bookings every month. This gives you peace of mind that they're going to be in a great position to help you and your small business.
Having offered services for a number of years, they're pretty established. They now also offer a range of features such as handling bookings in different time zones and allowing you to manage your team availability.
YouCanBook.me Pros and Cons
Pros:
Able to handle scheduling for large teams
Allows you to customize booking pages and notifications
A range of booking pages
Varied ways for you to communicate with customers
Cons:
Currently no mobile app
Not the easiest user interface to use
YouCanBook.Me is great for a range of small businesses and industries. However, most say that for those involved in sales, recruitment, or user experience, this is the perfect platform for dealing with all of your scheduling needs.
Pricing
YouCanBook.me offers a 14-day trial for you to get started. After that, it has a simple pricing structure of $10/month.
10 – TimeTap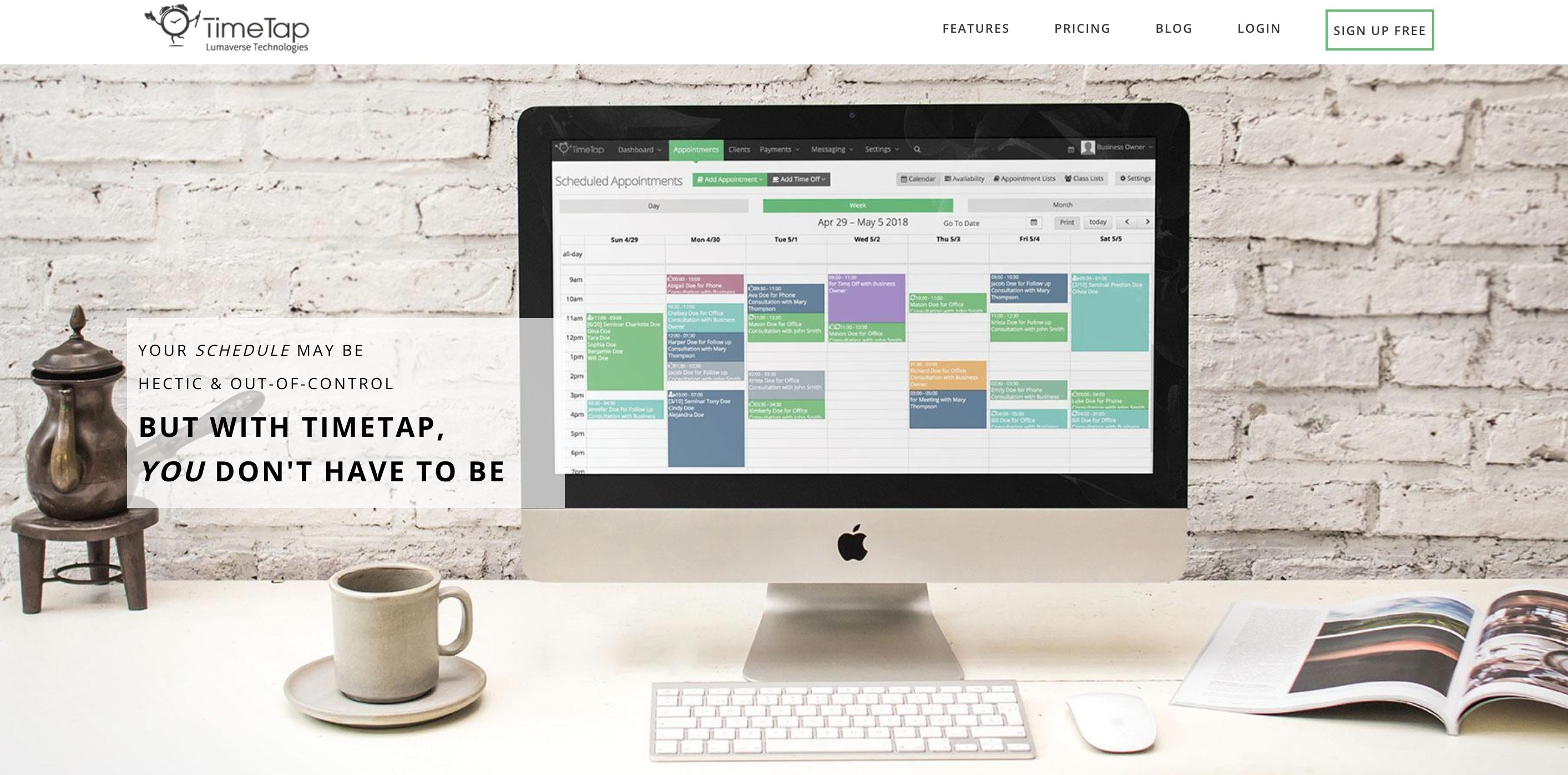 TimeTap's online scheduling tool makes simple work of appointment bookings. It's designed for medium and larger-sized businesses to provide a client-friendly solution that is both customizable and able to cope with larger volumes of staff in multiple locations.
Being both HIPAA- and GDPR-compliant gives businesses the reassurance that a secure system is in place that can be trusted.
TimeTap Pros and Cons
Pros:
Text and email generation for client confirmation and scheduling
Automated scheduling for sales teams
Easy access to scheduling for clients
Sync multiple calendars
Cons:
A pricing structure that follows staff numbers may not be effective for all
Some customizable features are hard to set up
The tool is available on Android and iPhone, as well as through Cloud computing and web-based solutions. The tool enables the automation of processes, with repeat appointments being automated and saving the time taken to manually enter details.
Pricing
Professional Solo plans start at $24.95/month, and Team plans start at $39.95/month. TimeTap also offers a free starter plan for single users. 
11 – ScheduleOnce

ScheduleOnce is an app that is geared toward the scheduling requirements of sales teams, offering all the needed features in a package with a simple, uncluttered interface.
With an emphasis placed on its customizability while maintaining security and compliance, it does lack the level of integrations offered by the likes of Calendly. It also misses a few features like sales reports or AI assistance in reducing sales admin.
ScheduleOnce Pros and Cons
Pros:
Easy calendar integrations
Built-in scheduling
24/7 email support
Use custom branding
API and Webhooks
Cons:
The calendar doesn't appear on the home page
It can be difficult to use at first
ScheduleOnce is one of the more involved offerings when it comes to setup, but it offers flexibility and has good documentation to help you through the process.
The company also offers ChatOnce which gives your customers the ability to book meetings straight from a chat popup on your own website.
With affordable pricing and a free Starter plan available, it's easy too see why this is one of the most popular Calendly alternatives around.
Pricing
The Growth plan starts at $10 per user per month. This plan includes white labeling with your custom branding, APIs, and Webhooks, in addition to 24/7 support. There is also a free Starter plan for up to 3 users. 
12 – Chili Piper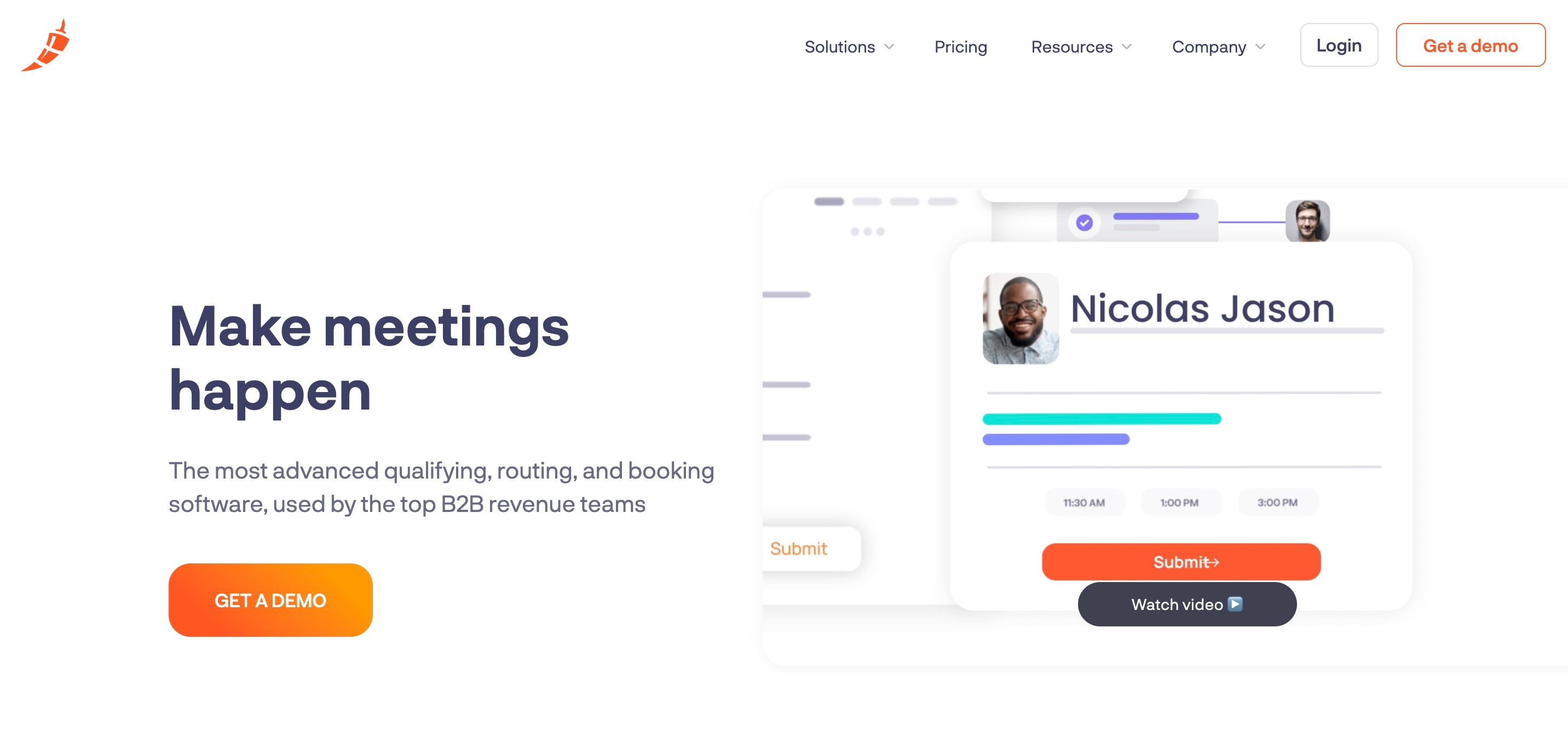 Chilli Piper is one of the most popular Calendly alternatives around. The ethos behind the product is to focus on generating sales and increasing revenue.
This means Chili Piper's first priority is customer relationship management, while apps like Calendly focus on providing the client with a simple and quick method to book appointments. This can help sales teams get the meetings they need with prospective clients.
This is seen clearly in the way Chilli piper leads with CRM and follows on to workflow scheduling. Calendly, on the other hand, takes the approach of scheduling initially with a follow-on to sales.
Chili Piper Pros and Cons
Pros:
Pre-book meetings via different calendar integration options
Lots of automated features to make life easy
Lots of integrations
Cons:
Doesn't have a range of analytic features
Not many options for processing payments
Meetings can be scheduled straight from email, your calendar, or via a chat window. The CRM-first approach also means forms can automatically be populated with the customer's information. That makes bookings a far simpler and quicker process for clients.
Chili Piper also gives you the ability to use fully customized rules on task allocation. This is useful as it enables tasks to be assigned not only on availability but also on expertise and other custom criteria.
Pricing
User licenses start at $30 per month, plus and monthly platform fees start at $150 per month.
13 – Sprintful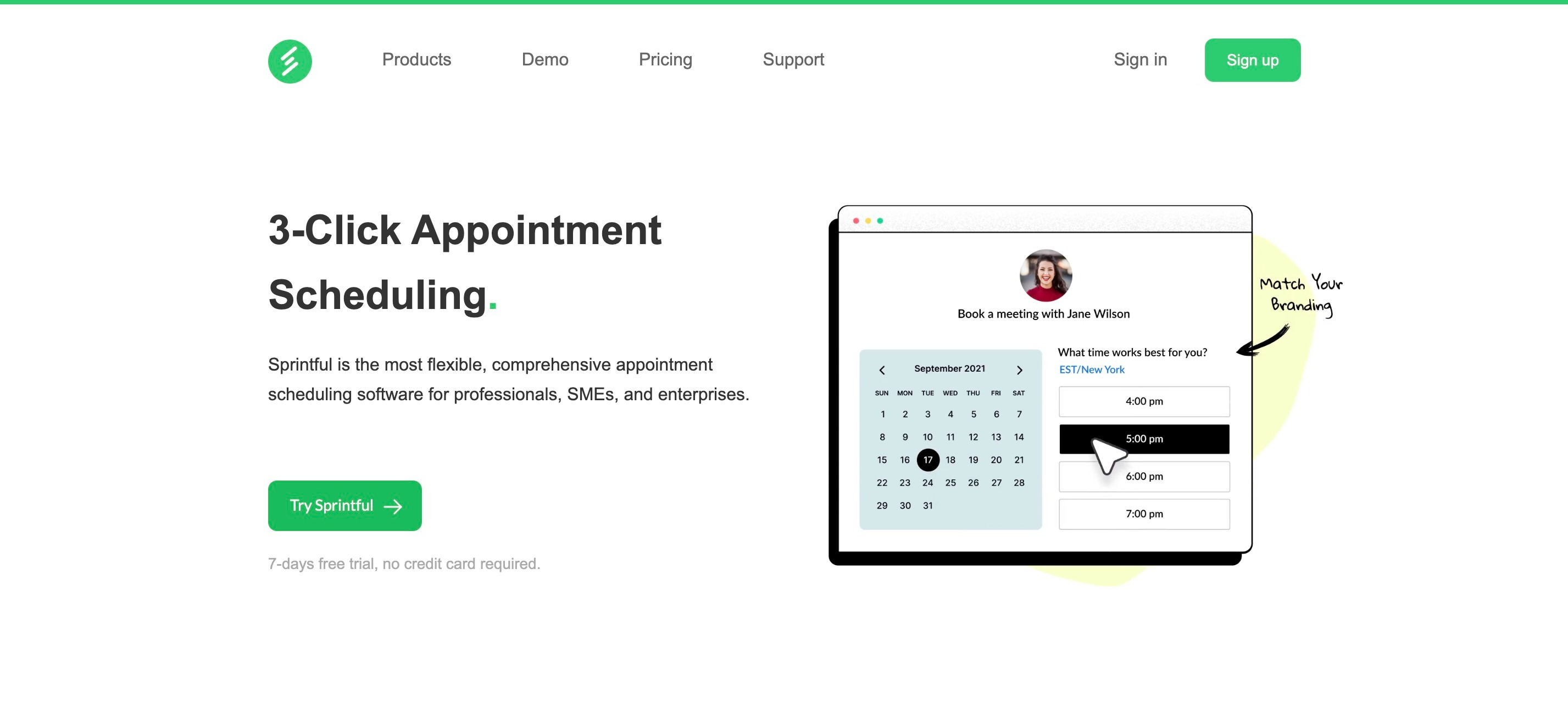 Sprintful offers a different take on the problems often solved with products like Calendly. The package is aimed toward brand customization with your own logos and color schemes.
Unlike Calendly, you can use your own domain name. It also offers comprehensive options for sales teams including a team directory. It's one of the best Calendly alternatives for businesses looking for a custom-branded solution.
Sprintful Pros and Cons
Pros:
Ease of booking appointments on a shared calendar
Comprehensive scheduling options
Cons:
No mobile access
A learning curve for setup
Pricing
Prices start at $9/month which allows you to connect 4 calendars and benefit from both a custom domain and full customer support from the Sprintful team. There is no free option, however, a trial period is offered.
Which Are The Best Calendly Alternatives for Your Business?
Whatever the size of your business, managing your time efficiently is essential. This is not only for the smooth running of your business but to allow you to maintain a decent work/life balance.
The fact that there are so many good Calendly alternatives out there is great news. It means that whatever industry you are in and whatever your scheduling needs are, you can be confident that there is going to be something to suit you.
Getting it right is important, so spend some time looking into the options and ensure that whether you use Calendly or one of the Calendly alternatives, you have made the right choice for you and your business.